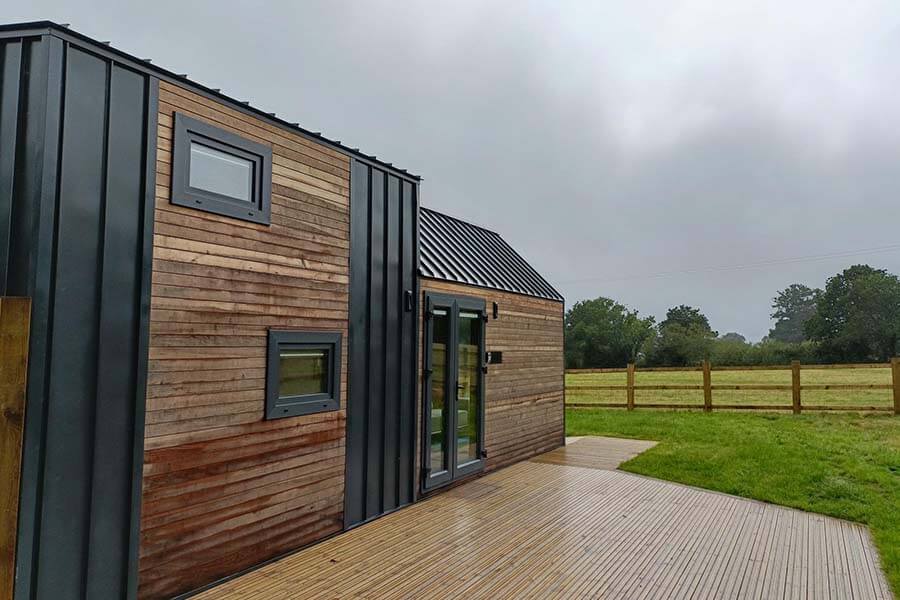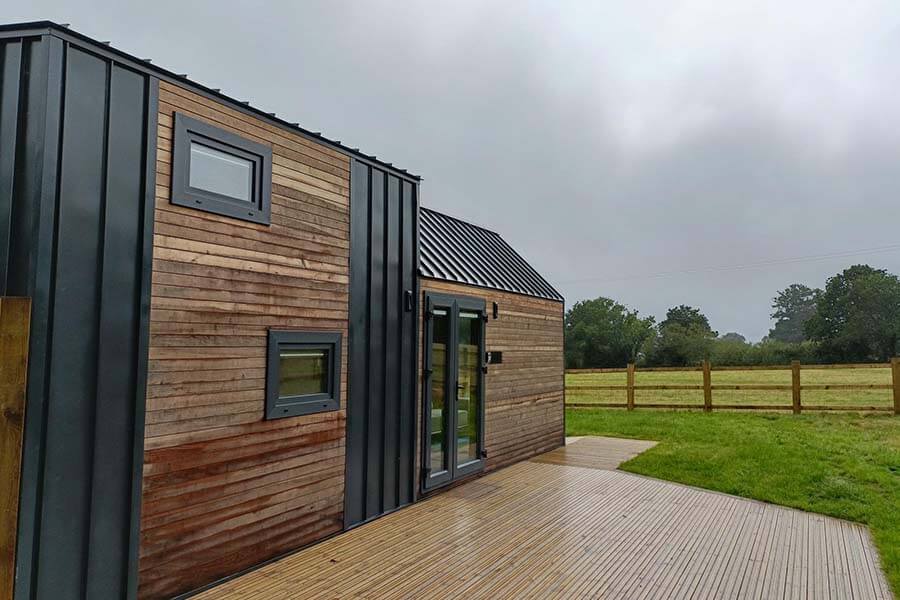 Little Dunley Cottages, Devon
The Tiny House is a delightful, bijou holiday accommodation for adults only, and as its name suggests, is a compact house – however, you will be astounded to see what we have managed to fit inside!  If you are looking for a romantic holiday for two, or simply wish to escape the hustle and bustle of life and enjoy some peace and quiet in a serene countryside location in Devon, this house is the ideal choice.
This accommodation is fitted with an air-conditioning system, which provides both cool air during the summer months, and heating during the colder seasons.  Within the living area, you will find a comfortable sofa, with a Freeview TV.  There is also a small dining table and chairs, which can be moved outside onto the onto the decking, to be used if the weather is kind.  A large cathedral window provides a focal point and provides a fantastic viewing opportunity.  The kitchen area comes complete with sink; ceramic hob; microwave/combi oven; under-counter fridge etc., and is fully equipped with plates; cups; glasses; pots; pans & cutlery. In the bathroom, which is clad in a marble-effect panelling, you will find a shower cubicle, sink and toilet.  Upstairs, the bedroom* contains a large storage ottoman and a king-sized bed.
*Please note: the bedroom ceiling is very low and therefore, this property may be unsuitable for those with mobility issues.
The Tiny House – A Quiet Holiday in Devon
Surrounding The Tiny House, you will find a decking area in the enclosed garden, and a firepit area with a small table and chairs, where you can sit and watch the sun go down at the end of a day, after exploring the many locations or events that Devon has to offer – maybe with a drink or two, whilst looking out over the landscaping and countryside. You are welcome to bring one well-behaved dog, who can either safely run free within the garden or we have our enclosed dog walking field set in a natural meadow. We have lots of fantastic dog walking routes nearby. There is sufficient parking space for 2 vehicles next to the property.
When booking this ideally situated Devon holiday accommodation, you can take advantage of nearby beaches, walks on Dartmoor National Park or an array of National Trust or historical landmarks… there is something for everyone. Little Dunley Cottages strives to be as environmentally friendly as possible, and although slightly off-grid and away from our other properties, The Tiny House benefits from water from our own borehole and has LED lighting throughout. All of our cleaning products are eco-friendly. This holiday property is accessed through the entrance to our adjacent East Dunley Cottages & Caravan Site.
To benefit from our very best prices and to check on availability, please use our Availability Checker below to book online for The Tiny House.
Your widget will appear here.
Please note, available arrival dates are shown in green and unavailable dates are in grey.
The Tiny House Facilities
Air Conditioning (Hot & Cold)
Hob, plus Microwave/Combi Oven
Bed Linen & Towels included
Enclosed Garden Area with Decking & Garden Furniture
Little Dunley Holiday Cottages Guest Book
"The cottages were so relaxing and beautiful you don't need to bring everything as they have everything readily available with Co-op and Tesco so local. It's a brilliant location for kids - the games room and swimming pool offer hours of entertainment for kids. I spent the whole weekend with the kids there and didn't feel like we had to leave. Really, really enjoyed my stay."
Huda, London
"Lovely cosy and quiet place to relax with the family. Games room and pool much appreciated and lots of thoughtful touches. Passes the fully-equipped kitchen standard with sharp knives, plenty of implements, a wok and even a pizza cutter! Would return."
Sarah, Cheshire
"Had a lovely time. The cottage was just perfect with all the comforts. Really enjoyed the log fire and how clean it was. The owner was very helpful and was there to help straight away."
Sonia
"We had a wonderful holiday in Oaktree Cottage and will definitely back! We took full advantage of the pool which we had to ourselves the majority of the time - the kids had a great time and their swimming improved amazingly! The cottage is "in the middle of nowhere" but a short drive away there is a huge amount to do... Thank you for a lovely holiday!"
Kate, Tunbridge Wells
"Lovely cottage in fantastic location. So many places to go within in half hour drive. Pool and games room at cottage excellent. Would definitely recommend."
Claire, Winterely
"Great location, lovely cottage which was just the right size for four! Really enjoyed the pool and Bovey Tracey was a delightful village!!"
Nina, Bedford